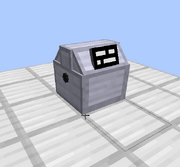 Rotarycraft Handbook Description
Edit
"A CVT (continuously variable transmission) Unit is essentially a dynamic gearbox. Rather than using toothed wheels, it uses a series of belts to change the gear ratio. This gives them the advantage of being efficient and highly flexible, allowing you to select the desired gear ratio on demand. Note that higher ratios require more belts, with each power of 2 doubling the maximum ratio (capped at 32:1). This machine also requires lubricant, but will not consume it."
Interface
Edit
Different rows of belts correspond to available speed/torque conversions starting from 2:1 to 32:1. If you're going to need more than one ratio and you want to automate switching between them with a redstone signal, fill relevant rows with belts and set up the redstone signal control in top right.
Right clicking on the CVT unit with a bucket will fill the lubricant bar.
Angular Transducer Output
Edit
Screwdriver Usage
Edit
| | |
| --- | --- |
| Right Click | |
| Shift + Right Click | |
Tips & Tricks
Edit
Don't forget, while it doesn't use up lubricant, it still requires it to function.
A CVT Unit is especially useful when a player doesn't have enough power to run all stages of an extractor at once (which requires 512 Nm at 8192 rad/s which is 4MW).  Simply set up 65.536 kW input at the right speed, then use a CVT with belts to get enough torque for stages 1&4, and enough speed for stages 2&3.  toggling the redstone signal will flip between processing each.  A slow, automated clock of some sort can be used to completely automate the CVT toggling.
Ad blocker interference detected!
Wikia is a free-to-use site that makes money from advertising. We have a modified experience for viewers using ad blockers

Wikia is not accessible if you've made further modifications. Remove the custom ad blocker rule(s) and the page will load as expected.