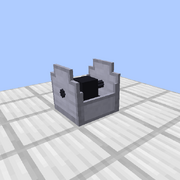 Clutches are used to control power transmission. When they receive a redstone signal they will transmit all input power unchanged, but will not transmit any power if not supplied with a redstone signal.
Rotarycraft Handbook Description
Edit
"The clutch is basically a gated shaft - when powered by redstone, it transmits its input torque and speed unchanged. Unpower it, and it outputs nothing."
Angular Transducer Output
Edit
Screwdriver Usage
Edit
| | |
| --- | --- |
| Right Click | |
| Shift + Right Click | |
Ad blocker interference detected!
Wikia is a free-to-use site that makes money from advertising. We have a modified experience for viewers using ad blockers

Wikia is not accessible if you've made further modifications. Remove the custom ad blocker rule(s) and the page will load as expected.