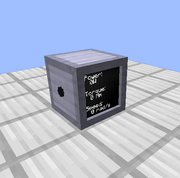 The Dynamometer' allows the user to check the power, torque, and speed of a system that it is put into series with.
The display is shown on both sides of the block. This block will transmit power unchanged.
Rotarycraft Handbook Description
Edit
"The dynamometer will display its input torque, speed, and power while outputting them to the other side."
Ad blocker interference detected!
Wikia is a free-to-use site that makes money from advertising. We have a modified experience for viewers using ad blockers

Wikia is not accessible if you've made further modifications. Remove the custom ad blocker rule(s) and the page will load as expected.