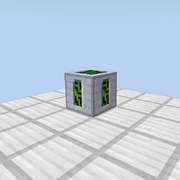 The Engine Control Unit (short ECU) can be used as on on/off switch for many of the engines that otherwise do not respond to redstone signal. When right clicked with a screwdriver, it allows engines to run at different speeds.
Rotary Handbook Description
Edit
"The engine controller can throttle down the fuel-powered engines. When throttled down, they output their usual torque, but at a fraction of the speed. The benefit of this is that they consume fuel more slowly; slower speeds have greater efficiencies than faster ones. Modes are changed by right-clicking the ECU with a screwdriver. The ECU can also accept a redstone input, which will shut the engine down entirely.
The ECU is placed below the engine it should control. It also acts as a pipe - for engines that require fuel, it can be piped into the bottom of the ECU which lets the fuel pass through to the engine.
A screwdriver is used to adjust the running mode of the engine, additionally applying a redstone signal will cause the engine to shutdown.
Specifications
Edit
| | | |
| --- | --- | --- |
| Available modes | Speed | Fuel efficiency |
| Shutdown | 0.00 | 0x |
| Standby | 6.25 | 4x |
| Low | 25.00 | 2x |
| Medium | 50.00 | 1x |
| Full | 100.00 | 1x |
Tips & Tricks
Edit
The ECU does not seem to respond or attach to BC kinesis pipes or BC gates so if BC gates are being used at any point in the process, connect them to a redstone circuit in order to supply a redstone signal to the unit.
The Gas Turbine and Microturbine are both exceptions to the efficiency rule. At the "standby" position, they are actually half as fuel efficient as they are at full speed, consuming 12.5% of the fuel of full speed while only at 6.25% of the speed.